Organic Oat Supplier and Manufacturer in Taiwan.
SUNRIGHT FOODS CORPORATION is the manufacturer, supplier and exporter of
Organic Oat
, factory located in Taiwan. We consist of many professionals that working shoulder by shoulder, to provide a better services, in regards of product quality guarantee, after-sale services, and we do still improving in getting better and better.
To find and shop the Organic Oat, you need to know about the highest quality of manufacturer, supplier, wholesaler, distributor, OEM and ODM from a factory in Taiwan
We mainly take the
Organic Oat
ODM and OEM order, what you see on web are just small portions of our products. To have a better resolution and get a quick response, please contact us with your specs right away. We will do our best to satisfy you.

Organic Oat

Model - 570024

【Green Farm】Organic Oat
570024

Product Name: 【Green Farm】Organic Oat 500g
Ingredients:
Organic oat
Specifications: 500g x 12 packs
Storage period: 12 months
Origin: Australia

Storage: Do not place under direct sun beam and at a damp place(After opening, please finish it as soon as possible.) to avoid deterioration.

Features:
●Oat is one of the super food and contains many human body needed nutrients
●Ingesting more oat can enhance fiber for human body
●Oat owns rich soluble dietary fiber
●Oat can enhance our body digest system and makes us healthier

Enquiry Now

Products List

View Detail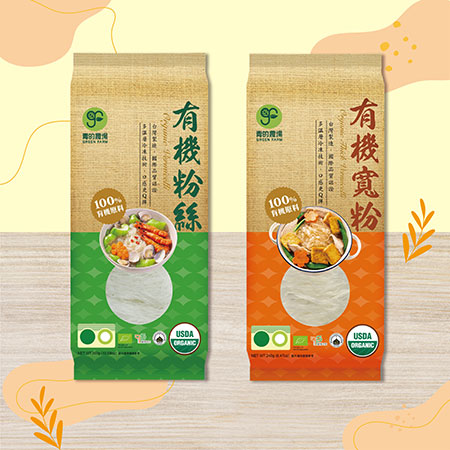 【Green Farm】Organic Vermicelli 340237 Product Name: 【Green Farm】Organic Vermicelli Ingredients: Organic potato starch(China), Organic mung bean starch(China), Water Specifications: 300g x 12 packs Storage period: 36 months Origin: Taiwan Storage: Do not place under direct sun beam and at a damp place(After opening, please finish it as soon as possible.) to avoid deterioration. Cooking instructions: Cooking time: 4 min, chewy taste. Cooking time: 6 min, tender taste. Cooking time: 8 min, smooth taste. (Instructions above is for reference only, please adjust cooking time according to the situation) Product Name: 【Green Farm】Organic Wide Vermicelli Ingredients: Organic potato starch(China), Organic mung bean starch(China), Water Specifications: 240g x 12 packs Storage period: 36 months Origin: Taiwan Storage: Do not place under direct sun beam and at a damp place(After opening, please finish it as soon as possible.) to avoid deterioration. Cooking instructions: Cooking time: 4 min, chewy taste. Cooking time: 6 min, tender taste. Cooking time: 9 min, smooth taste. (Instructions above is for reference only, please adjust cooking time according to the situation) Features: ● 100% organic ingredients ● Cooking method is simple, mellow taste, smooth, and flexible. ● Low GI, sugar-free, no aluminum, preservatives, bleach, borax, artificial sweeteners and artificial colors ● Food certification: HALAL, EU organic, USDA organic and more. ● Multi temperature Frozen Technique make the vermicelli more chewy and smooth
View Detail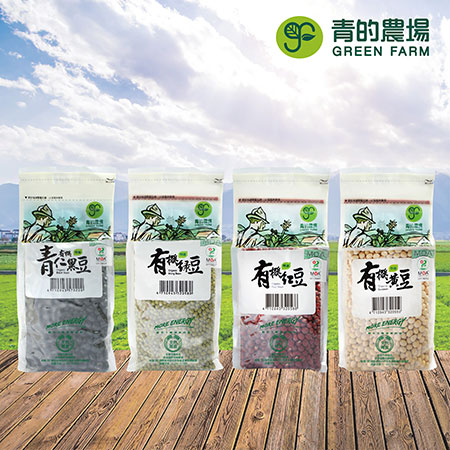 【Green Farm】Organic Beans 320056 Product Name: 【Green Farm】Organic Mung Bean Ingredients: Organic mung bean Specifications: 600g x 12 packs Storage period: 12 months Origin: China Product Name: 【Green Farm】Organic Red Bean Ingredients: Organic red bean Specifications: 500g x 12 packs Storage period: 12 months Origin: Brazil Product Name: 【Green Farm】Organic Black Bean Ingredients: Organic black bean Specifications: 500g x 12 packs Storage period: 12 months Origin: China Storage: Do not place under direct sun beam and at a damp place(After opening, please finish it as soon as possible.) to avoid deterioration. Features: ● Awarded Organic Certification by International Foundation for Aesthetic Nature (Mokichi Okada Association Taiwan) ● Contains various nutrients such as high protein, vitamins and minerals. ● In order to provide safety food, we plant beans in organic cultivation and maintain the environmental ecosystem. ● Each product must be labeled with MOA organic certification label for traceability