Organic Vermicelli Manufacturers, Suppliers in Taiwan.
SUNRIGHT FOODS CORPORATION's
Organic Vermicelli
of manufacturer, supplier and exporter is positive of continued growth in the months ahead, although most expect increases in overseas revenue to remain within the large percent range. Although most are confident of sales remaining on an upward track in the months ahead, decelerating growth and increasing competition are prompting them to explore various areas for additional orders.
Find and buy Organic Vermicelli in the best price from the manufacturer or supplier in Taiwan. Get contact details & address of the manufacturers, OEM, ODM, suppliers, company and factory of Organic Vermicelli in Taiwan
our
Organic Vermicelli
have been widely accepted by customers from all over the world. Guarantee to our customers the best level of service offering capability, punctuality and quality bring lots of praise from our clients and win international markets.

Organic Vermicelli

Model - 340237

【Green Farm】Organic Vermicelli
340237

Product Name: 【Green Farm】Organic Vermicelli
Ingredients: Organic potato starch(China), Organic mung bean starch(China), Water
Specifications: 300g x 12 packs
Storage period: 36 months
Origin: Taiwan

Storage: Do not place under direct sun beam and at a damp place(After opening, please finish it as soon as possible.) to avoid deterioration.

Cooking instructions:
Cooking time: 4 min, chewy taste.
Cooking time: 6 min, tender taste.
Cooking time: 8 min, smooth taste.
(Instructions above is for reference only, please adjust cooking time according to the situation)

Product Name: 【Green Farm】Organic Wide Vermicelli
Ingredients: Organic potato starch(China), Organic mung bean starch(China), Water
Specifications: 240g x 12 packs
Storage period: 36 months
Origin: Taiwan

Storage: Do not place under direct sun beam and at a damp place(After opening, please finish it as soon as possible.) to avoid deterioration.

Cooking instructions:
Cooking time: 4 min, chewy taste.
Cooking time: 6 min, tender taste.
Cooking time: 9 min, smooth taste.
(Instructions above is for reference only, please adjust cooking time according to the situation)

Features:
● 100% organic ingredients
● Cooking method is simple, mellow taste, smooth, and flexible.
● Low GI, sugar-free, no aluminum, preservatives, bleach, borax, artificial sweeteners and artificial colors
● Food certification: HALAL, EU organic, USDA organic and more.
● Multi temperature Frozen Technique make the vermicelli more chewy and smooth

Enquiry Now

Products List

View Detail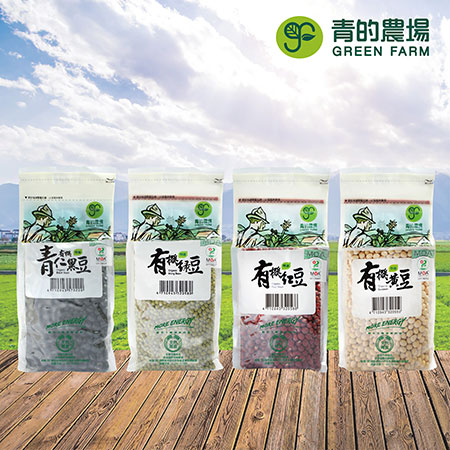 【Green Farm】Organic Beans 320056 Product Name: 【Green Farm】Organic Mung Bean Ingredients: Organic mung bean Specifications: 600g x 12 packs Storage period: 12 months Origin: China Product Name: 【Green Farm】Organic Red Bean Ingredients: Organic red bean Specifications: 500g x 12 packs Storage period: 12 months Origin: Brazil Product Name: 【Green Farm】Organic Black Bean Ingredients: Organic black bean Specifications: 500g x 12 packs Storage period: 12 months Origin: China Storage: Do not place under direct sun beam and at a damp place(After opening, please finish it as soon as possible.) to avoid deterioration. Features: ● Awarded Organic Certification by International Foundation for Aesthetic Nature (Mokichi Okada Association Taiwan) ● Contains various nutrients such as high protein, vitamins and minerals. ● In order to provide safety food, we plant beans in organic cultivation and maintain the environmental ecosystem. ● Each product must be labeled with MOA organic certification label for traceability
View Detail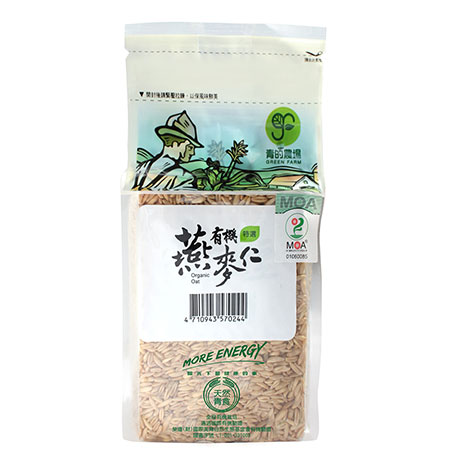 【Green Farm】Organic Oat 570024 Product Name: 【Green Farm】Organic Oat 500g Ingredients: Organic oat Specifications: 500g x 12 packs Storage period: 12 months Origin: Australia Storage: Do not place under direct sun beam and at a damp place(After opening, please finish it as soon as possible.) to avoid deterioration. Features: ●Oat is one of the super food and contains many human body needed nutrients ●Ingesting more oat can enhance fiber for human body ●Oat owns rich soluble dietary fiber ●Oat can enhance our body digest system and makes us healthier