Guanmiao Noodles | SUNRIGHT FOODS CORPORATION.
SUNRIGHT FOODS CORPORATION is a professional product supplier, specializing in Guanmiao Noodles. We are always ready to develop new designs according to the domestic and international consumers' demand for products, quick updates of products, and to improve safety and security.
View Detail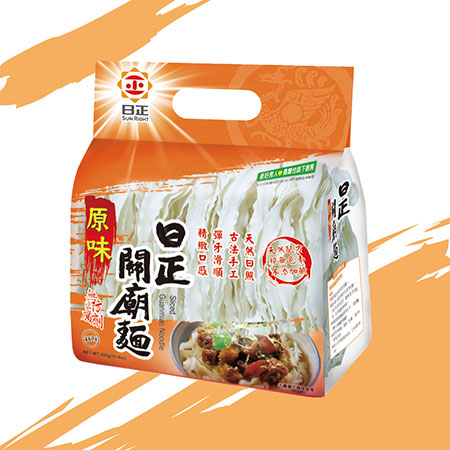 【Sunright】Taiwan Guanmiao Noodles 350082 Product Name: 【Sunright】Taiwan Guanmiao Noodles Ingredients: Wheat flour, Water, Salt Specifications: 900g(60g x 15 pieces) x 12 packs Storage period: 12 months Origin: Taiwan Storage: Do not place under direct sun beam and at a damp place(After opening, please finish it as soon as possible.) to avoid deterioration. Allergy information: Contain wheat and gluten Features: ● Sunright Guan Miao noodles are sliced noodles, the appearance is like wavy, more thicker and chewy than other ordinary noodles. ● Made with high quality flour, the noodles are white in color and free of impurities. ● To produce noodles, we use latest automatic machine, Infrared heating and sterilization, electrical drying with modern sun room natural Sundried. ● Clean and hygienic workshop
A specialized manufacturer, OEM, ODM, supplier, and company of Guanmiao Noodles in the best price from Taiwan. Visit our website to browse more information of Guanmiao Noodles
Customers and distributors from around the world are welcomed to negotiate with us for
Guanmiao Noodles
. Let's join hands and strive for prosperity.